Amina: Through My Eyes
by J.L. Powers, series editor Lyn White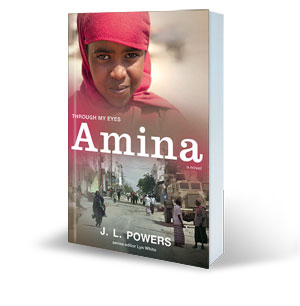 The year is 2011, and Somalia's civil war has been raging for two decades. Amina's world is shattered when government forces come to arrest her artist father and rebel forces kidnap her brother. Can Amina use her own street art to provide a voice for others like herself?
'This touching story brings home vividly the dangers of creating art that seeks to be true – and all the more so during a vicious civil war, interwoven with religious extremism. Thankfully, Amina's teenage curiosity and courage also signal hope.' - Beverley Naidoo, author of Carnegie Medal Winner The Other Side of Truth

'A beautifully crafted story with mesmerising characters and a charming narrator. It made me laugh and cry and sent shivers down my spine.' - Randa Abdel-Fattah


Awards:
United States Board on Books for Young People Award for Outstanding International Books (Grades 6 to 8) 2016
Series shortlisted for the Educational Publishing Awards 2015 – Secondary Student Resource (Junior) - Commended
More on Amina :